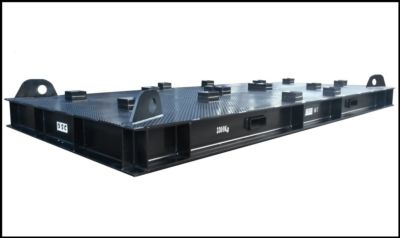 The OSC® 50T platform is equipped with 4x4 bases for positioning two batches of weights in the centre and one batch of weights at each end.
External dimensions (mm)
Length: 4.890
Width: 2.280
Height: 480
Fork receivers (mm)
250 x 100
Centreline distance (mm)
2.130
Max. load (Tonnes)
Right side: 12.5
Centre: 2 x 12.5
Left side: 12.5
Floor tearplate (mm)
Thickness: 4/6
Weight of platform (Tonnes)
Weight: 3.3
Height under lifting hook: 5m
The OSC® 50T platform is intented to be loaded with OSC® patented test weight sets (Total weight under load: 50T).
The loaded OSC® 50T platform enables the performance of static and dynamic tests of materials handling equipment such as:
Overhead cranes,
Gantries,
Lifting bars
Cranes.