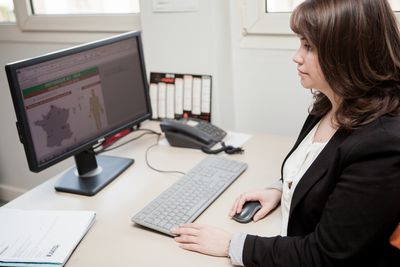 THE OXYMETAL GROUP QUALITY POLICY
The priority of the OXYMETAL Group, the French leader in industrial cutting, is the ongoing improvement of quality and customer service.
Customer satisfaction is the overriding concern of all of the stakeholders in our Group.
Our Customer loyalty is the best indication of their satisfaction, and is also vital for our development.
Upholding our commtments is our objective, whether in the operational or functional departments, and at all levels of responsibility.
That is why the OXYMETAL Group has decided to adopt a total quality policy based on the followings priorities:
- Improving Customer satisfaction,
- Excellence in products and services,
- Continious modernisation of production facilities,
- Employee fulfilment and skills development,
- And, a desire to achieve daily improvement,
so as to ensure the success of our profitable growth strategy.
The Group Quality Manager and the Site Quality Manager are each responsible for ensuring that these measures are enforced and for endorsing quality among all staff.
Each year, the quality targets are communicated to all staff by means of the quality improvement plan.
THE OXYMETAL GROUPE SAFETY POLICY
The OXYMETAL Group places occupational health and safety at the heart of its priorities. Protecting employees against injuries in the workplace and work-related illness is an ongoing objective.
This goal is reflected in the implementation of suitable means to protect the health and safety of staff. This process applies to the entire Group, and is an integral part of our management system.
We must conduct our activities in a way that ensures the health and safety of all. Each employee must protect their own health and their own safety by complying with the law and following the practices and procedures established by the OXYMETAL Group.
To reinforce this, Management is committed to the following measures:
- Ensure that safety regulations are observed, notably through the updating of occupational risk assessment documents,
- Analyse positions with a risk factor and supplement this analysis with a systematic search for the underlying causes of occupational accidents and by the implementation of tailored prevention measures,
- Train employees and monitor their integration,
- Exemplary behaviour is important, and the use of PPE is mandatory for all,
- Implement procedures to guarantee safe work and inform staff of dangers via safety data sheets,
- Monitor progress in safety-related matters via relevant indicators.
Health and safety is EVERYONE'S business!
Everyone must contribute to the protection of their health and safety and that of others on a daily basis.
The OXYMETAL Group places occupational health and safety at the heart of its priorities. Everyone, both individually and collectively, must work in optimum safety conditions and propose initiatives to improve health and safety within the Group.