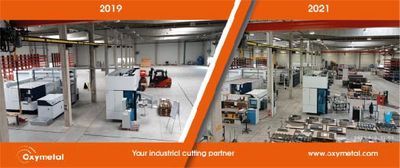 This month, OXYMETAL CZ is celebrating its 2nd birthday!
A great journey since its opening. The site opened its doors in Plzen, in Czech Republic, with the objective to support OXYMETAL customers in Central Europe as well as to conquer new markets.

Today, the site is operating 3 shifts with a staff of 15 employees, and it will reach 25 by the end of the year.
OXYMETAL CZ is now equipped with 3 lasers, 2 press brakes, 1 precision roller leveller and 1 deburring line.
The plant is exclusively dedicated to serial production with state-of-the-art performance.

Only 2 years after the start-up of the site, and despite the Covid crisis, OXYMETAL has now built a European dimension. This is an important pillar for our development with major international accounts.

Such a great adventure is only possible thanks to the engagement of our employees and trust from our customers! So THANK YOU.