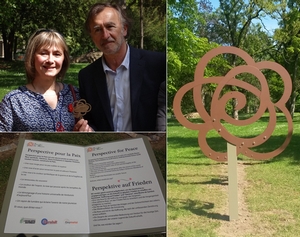 As part of the ceremonies for the commemoration of the "Centenary of the Great War" in Verdun, OXYMETAL EST contributed to producing the metal work of art "Prospect for Peace", a landscape sculpture which was unveiled to the public on Saturday 21 May by the actor Christophe Malavoy, sponsor of the association "Action for the residents of Verdun".

The steel sculpture is composed of 3 parts laser cut by OXYMETAL and mounted on feet by "L'Enveloppe du Bâtiment", the initiator of the project.
The finishing is signed "Eprolor".

This superb work, 3.50m high and 3m wide, once again demonstrates that metal work has not lost its ability to inspire and that laser cutting have numerous applications in the artistic field.

Thanking us for our support in producing the metal artwork "Prospect for Peace", the board of directors of "Action for the residents of Verdun" have just offered us an example of the "Garance" rosebush specially designed for the occasion and a copy of which was also offered to the French President!